Marktleider in blokhutten, veranda's en tuinhout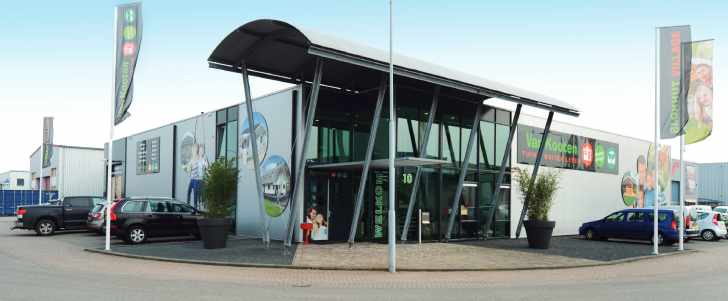 Bezoek een van onze winkels!
Openingstijden
| | |
| --- | --- |
| Ma t/m vr | : 08:30 - 17:30 |
| Za | : 09:00 - 16:00 |
Kunnen we u helpen?
Marktleider in blokhutten, veranda's en tuinhout
Welkom bij Van Kooten Tuin en Buitenleven, alle tuinverblijven onder één dak
Blokhutten,tuinhuizen, aluminium terrasoverkappingen, houten veranda's, luxe chalets, kapschuren en alle soorten tuinhout; voor alle mogelijke tuinrealisaties kunt u terecht bij Van Kooten Tuin en Buiten Leven B.V.B.A.; met 7 overdekte showrooms in Nederland en België is Van Kooten expert op het gebied van buitenverblijven. Dankzij ons zeer divers aanbod wordt elke tuinrealisatie mogelijk. Van houten bergruimte tot aluminium overkapping, tot romantische logeerkamer tot strakke tuinkamer: u vergroot niet alleen uw persoonlijke leefomgeving, maar tovert uw tuin eveneens om tot een ware buitenbeleving voor uzelf, familie en vrienden. Dankzij ons maatwerk zijn de mogelijkheden in uw tuin eindeloos.
Op onze website vindt u het gehele assortiment van Van Kooten Tuin en Buiten Leven. Heeft u graag nog wat meer informatie vooraleer u overgaat tot de aankoop van uw toekomstige blokhut, aluminium- of houten veranda, overkapping, chalet of luxe buitenverblijf? Dan bent u van harte welkom in onze overdekte showroom waar onze medewerkers u graag te woord staan.
Van Kooten Tuin en Buitenleven levert tuinmaterialen in verschillende soorten tuinhout voor diverse buitentoepassingen; Douglas hout, hardhout, vlonderplanken, vurenhout, Zweeds rabat, schuttingen, palen, tuinhekken, gordingen en regels. De experts van Van Kooten Tuin en Buiten Leven helpen u met plezier bij het maken van de juiste keuzes . Afhankelijk van uw wens begeleiden zij u in de wereld van Buiten Leven en helpen zij uw tuinrealisatie te verwezenlijken op maat van uw tuinproject.